JAK

COMPANY INFORMATION
JAK is committed to producing the highest quality Sand Therapy Trays and Children's Furniture at an affordable price. JAK products are 100% Made in Canada. Unlike any other product on the market JAK's signature box joint produces an extremely strong generic doctor, durable finished product while creating an urban retro style that will complement any home, office or classroom setting.
If you would like a custom item made or would like us to outfit your classroom or therapy office please contact us for a quote.
If you would like to carry JAK products in your store or on your website please contact us for details.
For each purchase made on jakcanada.com by clicking the link below or the JAK logo above a donation will be made to support the great efforts of CACPT!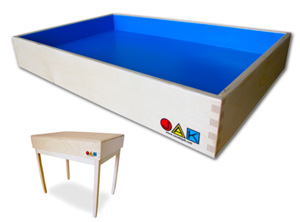 Email or visit our website today!